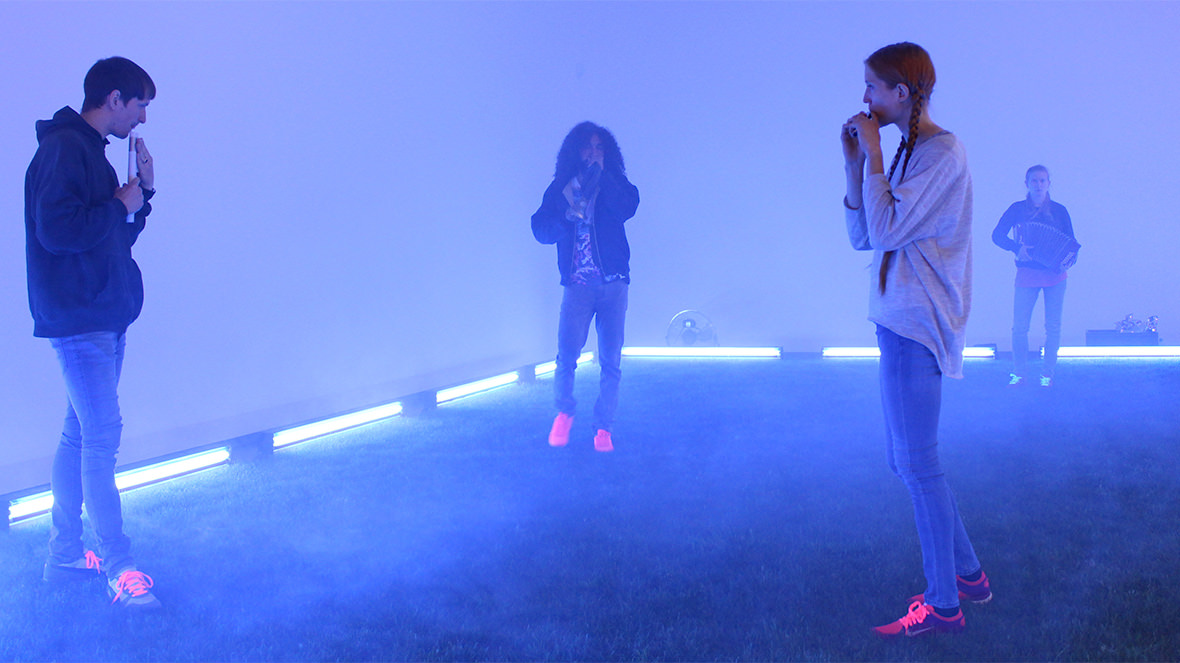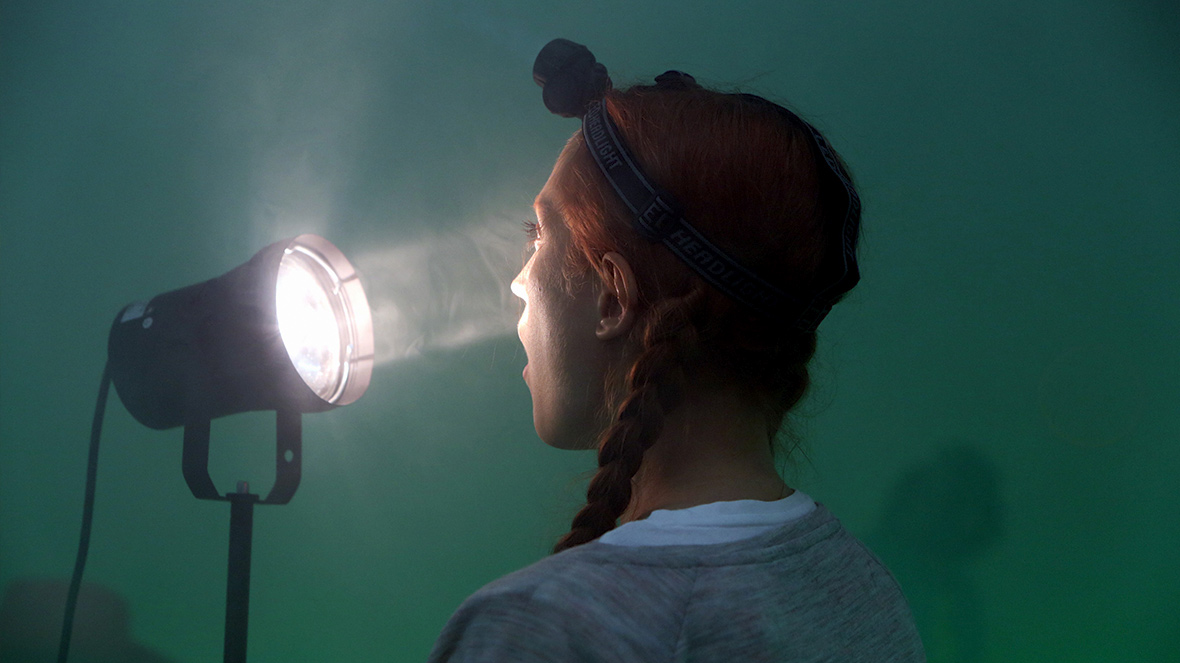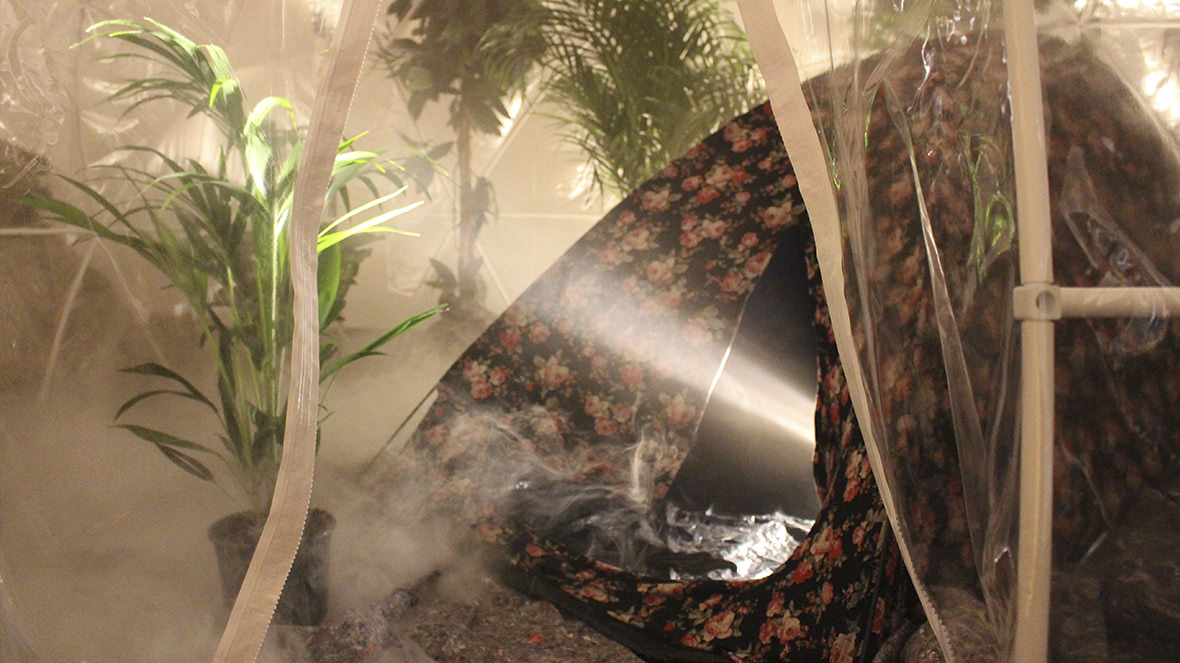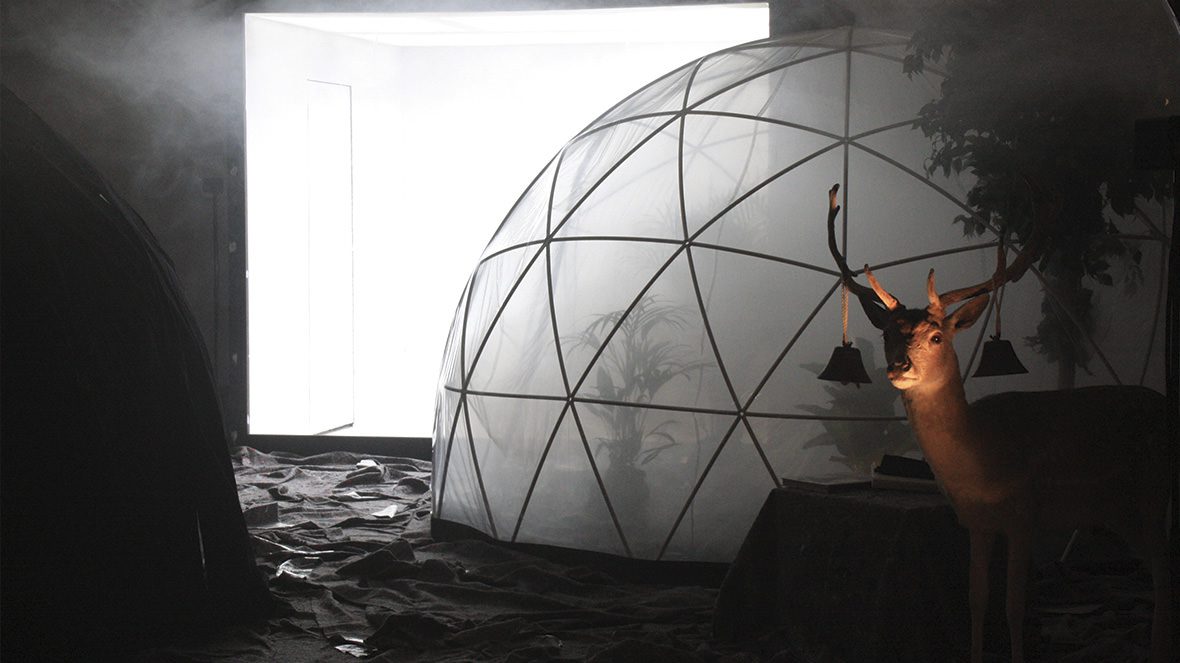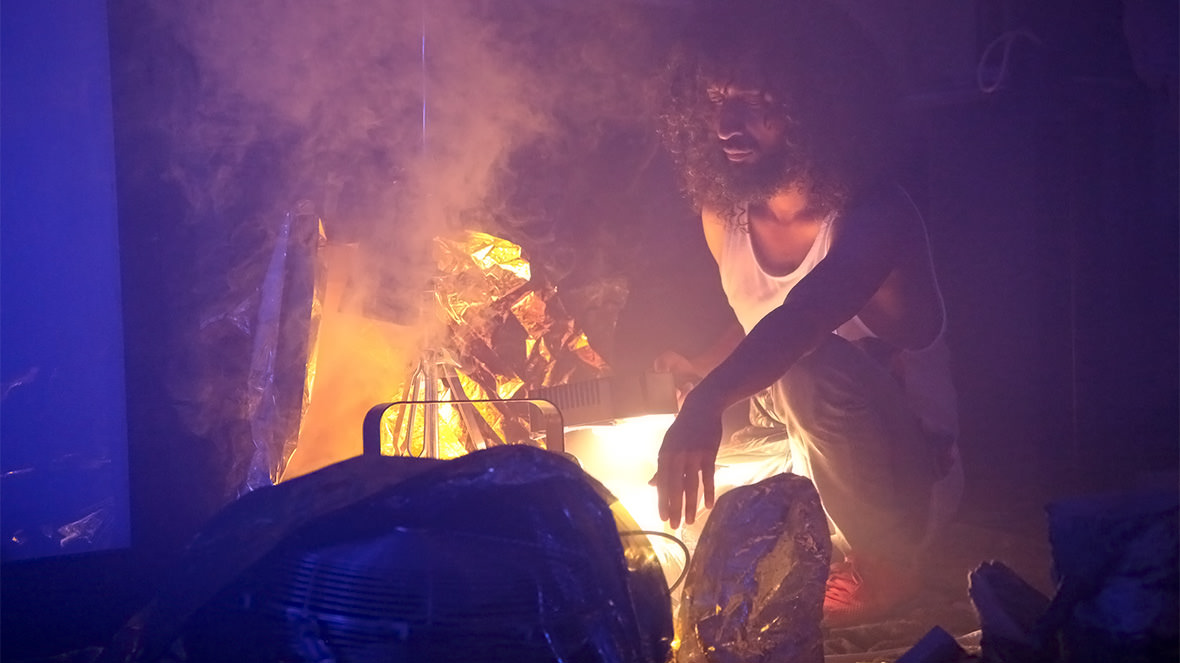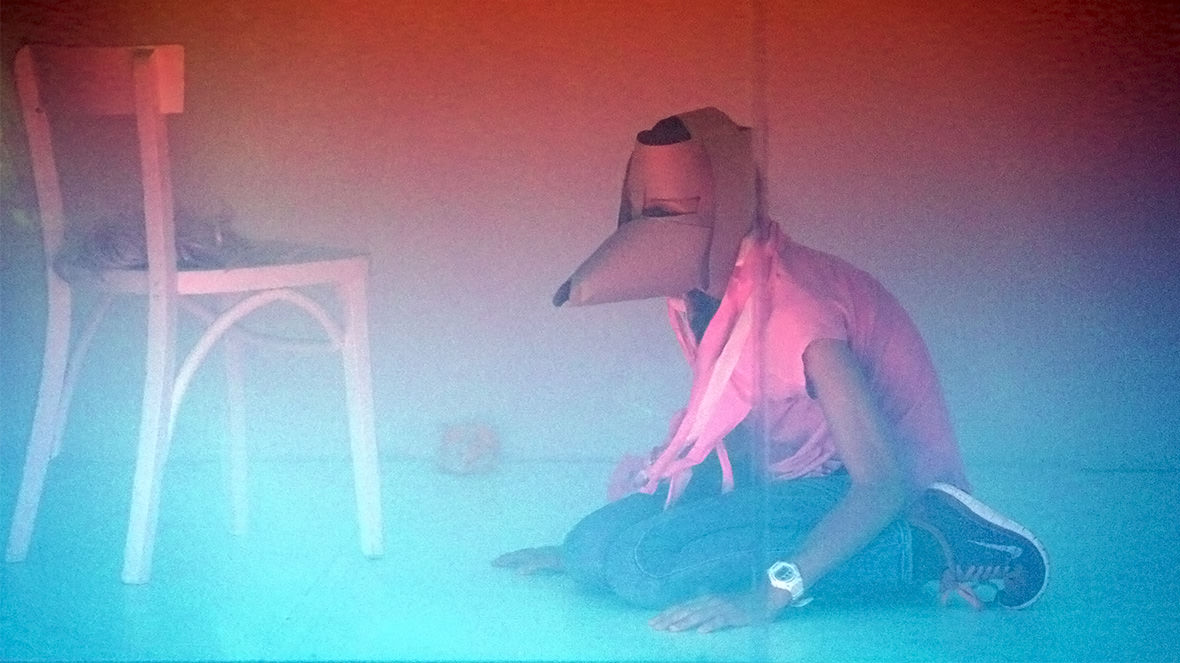 ---
UUUUU(topia)
NRW-Forum Düsseldorf
2 jun – 21 aug 2016
In the course of the exhibition Planet B "100 ideas for a new world"
During the three month exhibition project "Planet B", the transformative space UUUUU(topia) was created right inside the NRW-Forum Düsseldorf. The space served as a place of research and an ever changing, constantly growing space of experience for an ensemble of dancers, musicians, choreographers and scientists and at the same time, was interpreted as a sensorily tangible process. By working with the three chosen elements of body, music and landscape, the ephemeral, atmospheric landscape UUUUU(topia) is created. Dance, song, light, sound, language, abstraction and form create equivalent materials on a further level, which permeate the atmospheric landscape in layers. This multidisciplinary kaleidoscope of bodies and sounds oscillates between a space of conspiratorial encounters and a place of longing, in which, at best, the paradisiacal, the bestowal of happiness and maybe even the freedom of the now and the present can manifest in different ways. In the collective experience of this performative landscape, the artists, invited guests and audience share the beauty of the moment of change, of transformation. In pointing towards the participation in the now and present, the utopian momentum of the exhibition project manifests itself. Ephemeral, layered landscapes, choral sound installations, atmospheric weather games, staged dinners – all these variations of access can be granted in this utopian (free) space of art. UUUUU(topia) is therefore an experimental arrangement, a space of abundance as well as of emptiness, in which the ephemeral is condensed into a space- and time endowing phenomenon.
With: Izaskun Abrego, Bianca Bachmann, Laura Burgener, Lenah Flaig, Simon Hartmann, Okba Hzeem, Kerim Karaoglu, Margit Koch, Ronja Landtau, Sudeep Kumar Puthiyaparambath, Ben J. Riepe, Luisa Saraiva, Felizitas Stilleke, Sabina Stücker, Gwen Wieczorek, Kathrina Wilke, Phillip Zander, dasbuero, cowbirds, Navtej Johar, SEA+AIR, Tenores Santu Franziscu, scientists of the Jülich research center
Photos: Ben J. Riepe, Ursula Kaufmann, Bianca Bachmann
UUUUU(topia) is a production of Ben J. Riepe, co-produced with NRW-Forum Düsseldorf and Art Stations Foundation I Grazyna Kulczyk in collaboration with Goethe-Institute Warsaw. Funded by Ministerium für Kultur und Wissenschaft des Landes Nordrhein-Westfalen, Kunststiftung NRW, Kulturamt der Landeshauptstadt Düsseldorf, PERFORMANCE NETZ (NPN) Koproduktionsförderung Tanz aus Mitteln der Beauftragten der Bundesregierung für Kultur und Medien aufgrund eines Beschlusses des deutschen Bundestages and Kunst- und Kultur Stiftung der Sparkasse Düsseldorf. With kind support from Forschungszentrum Jülich.