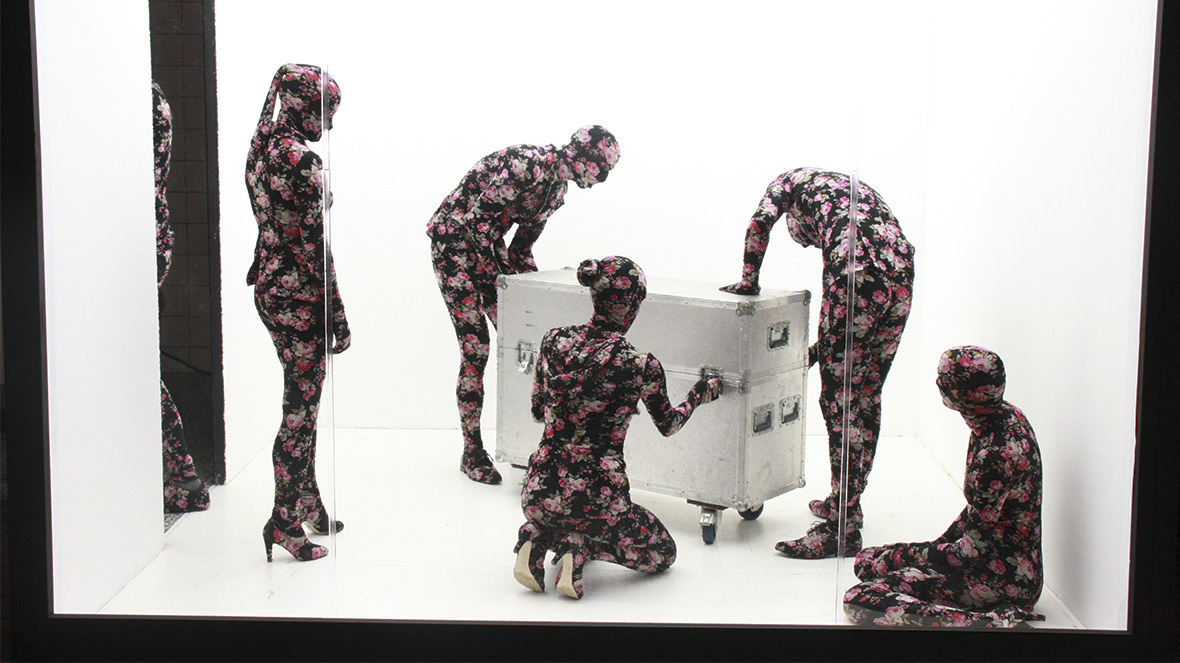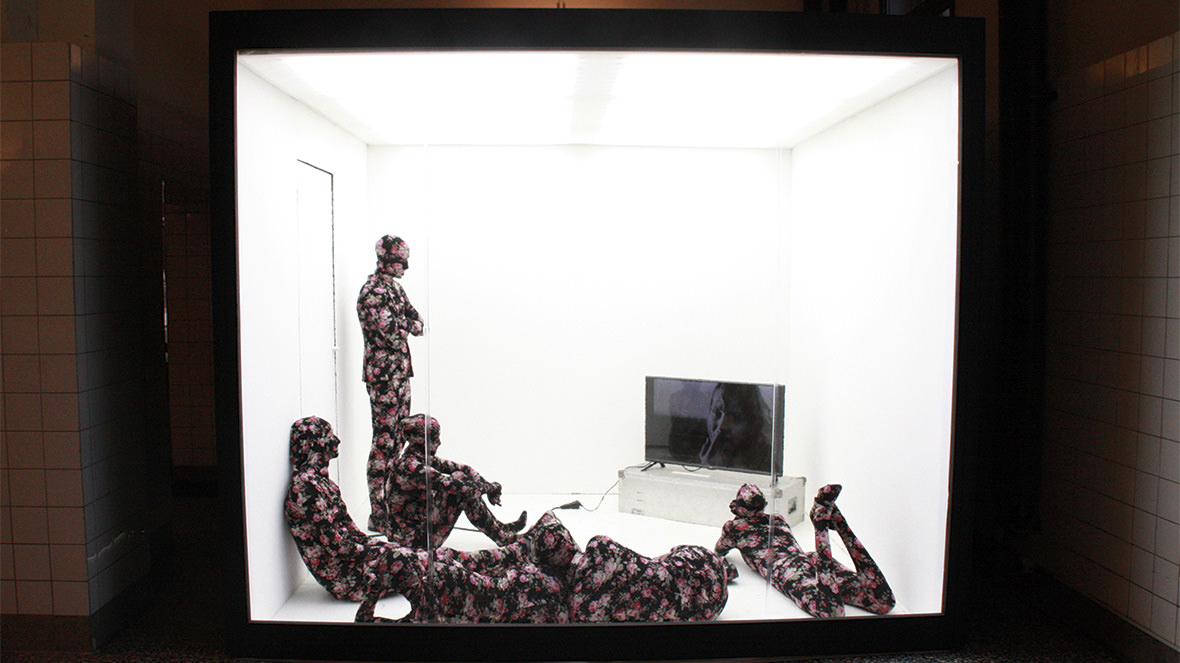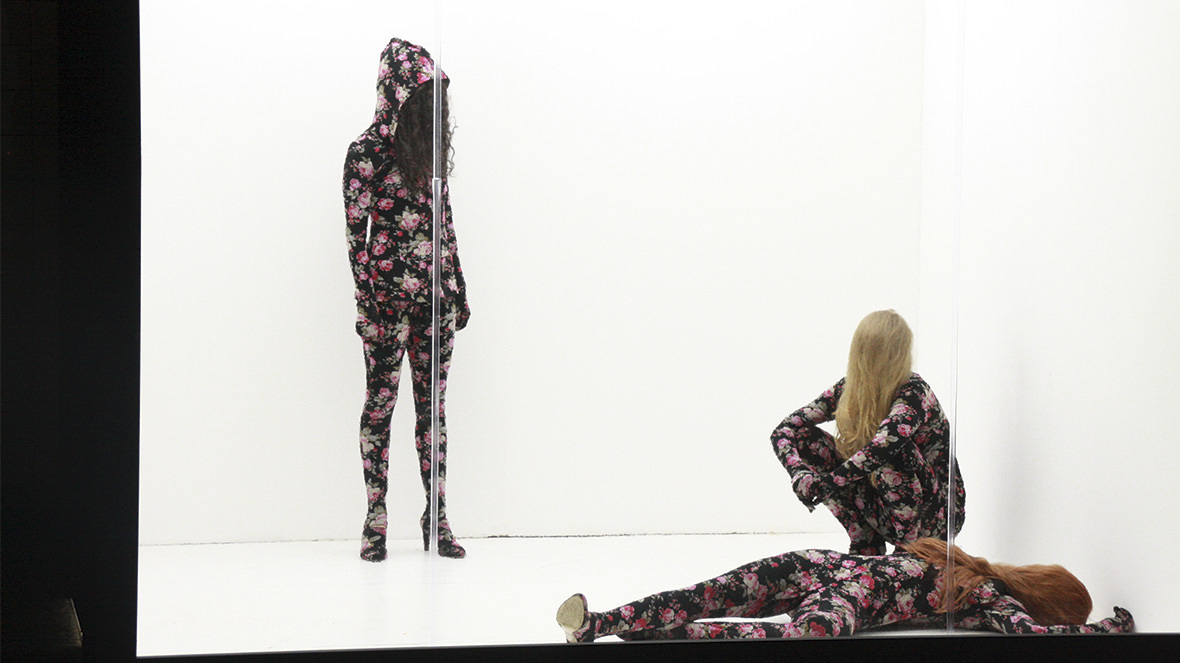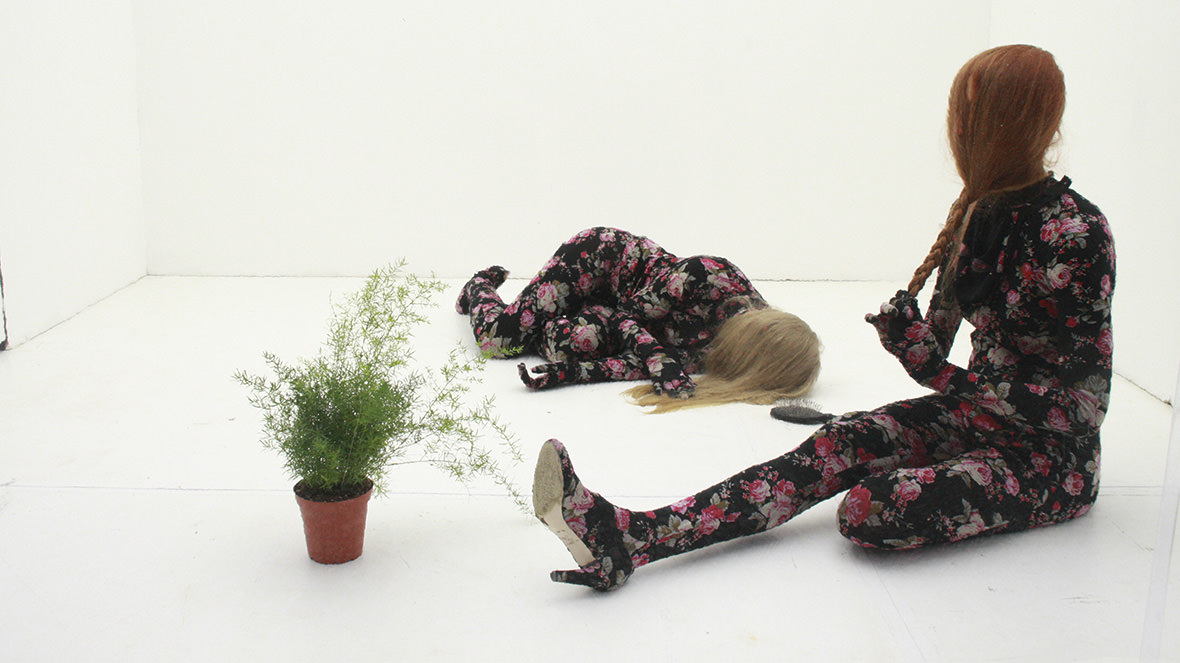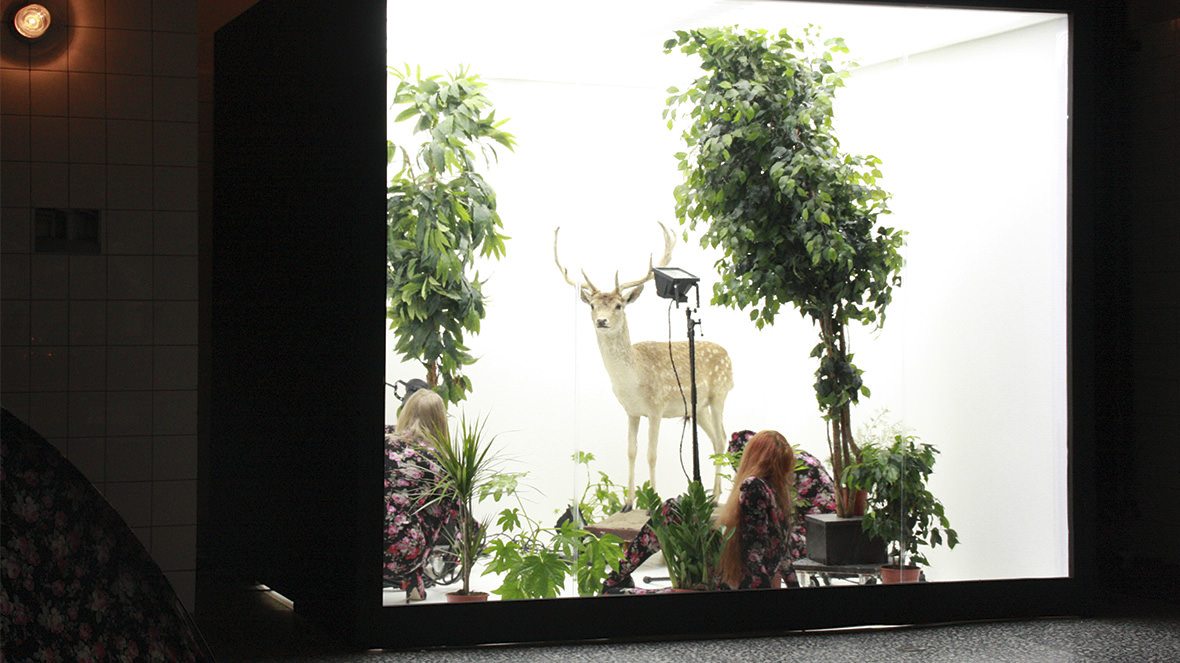 ---
LIVE BOX
Premiere, PACT Zollverein, Essen
13 mar 2015
13+14 mar 2015 Premiere, PACT Zollverein Essen, Atelier Spezial
15 may 2016, 8 am–5 pm Goethe-Institute Pop Up Pavillon | Plac Nowy Targ, Wroclaw, Poland. As part of the European capital of Culture Wroclaw 2016
Goethe-Institute Pop Up Pavillon: Ben J. Riepe, Plac Nowy Targ, Wroclaw, Poland
LIVE BOX is a work realizable in various versions, in which established motifs from works of the past years are connected with the current research about bodies under the transition of aesthetic shapes. The 3x3x3 meter LIVE BOX, which is open to the viewer through a front window, is a White Cube on the inside and a Black Box on the outside. Sometimes it is placed on a field, sometimes in a foyer, sometimes in a museum. As a strictly formatted vessel, the contents of the LIVE BOX can be altered from edition to edition, whereby different versions can be devised. The observer meets characters in rose costumes, movements and hours of engagement, as well as sentiments and perspectives of various kinds. Through the setting and the respective framing of the LIVE BOX, these processes become visible, and a glimpse, an idea of what is to come is being presented and takes the past along with it. This live experimental arrangement performs an inner life and thereby transcends, in an unagitated manner, the boundaries of common formats. At the same time, the project combines a number of current work concerns: the testing of a first utopian experimental balloon dealing with the body, landscapes and climates, the examination of the boundaries of arts and the striving for aesthetic forms of communitarization.
In the course of Atelier Spezial, the first edition of LIVE BOX was displayed in March 2015. In it, the motifs and examinations of current projects were combined with the expertises of participating interdisciplinary artists. Over the duration of up to 24 hours, the theater was transformed into a live experimental arrangement inviting the audience into a freely associative world of images and experiences.
The second, altered version of the work LIVE BOX was performed in May 2016, in the busy city center of Wroclaw. The Goethe- Institute Krakow constructed a temporary Dependance – a 6x3x3 meter glass pavilion, open to the viewer from all sides. This pavilion marked a space for art in a public setting in the central square of town and at the same time served as a basis and melting pot for site-specific, interdisciplinary artistic interventions. In this version of the LIVE BOX, the pavilion was transformed into an overdimensional diorama in which artistic avatars publicly and in an improvised manner, examined the principles of attribution in real time over the course of 10 hours, and literally settled in it.
Choreography: Ben J. Riepe
With (at PACT Zollverein Essen): Jonathan Auth, Laura Burgener, Lenah Flaig, Simon Hartmann, Jbid Hatschaduryan und Daniel Müller Torres
With (at Plac Nowy Targ, Wroclaw): Izaskun Abrego, Laura Burgener, Lenah Flaig, Simon Hartmann, Sudeep Kumar Puthiyaparambath, Kathrina Wilke
Box: Felix Ersig
Organization: Sabina Stücker, Izaskun Abrego
Photos: Ben J. Riepe
LIVE BOX is a production of Ben J. Riepe. Funded by Ministerium für Kultur und Wissenschaft des Landes Nordrhein-Westfalen, Kunststiftung NRW and Goethe-Institute Krakow. With thanks to PACT Zollverein.