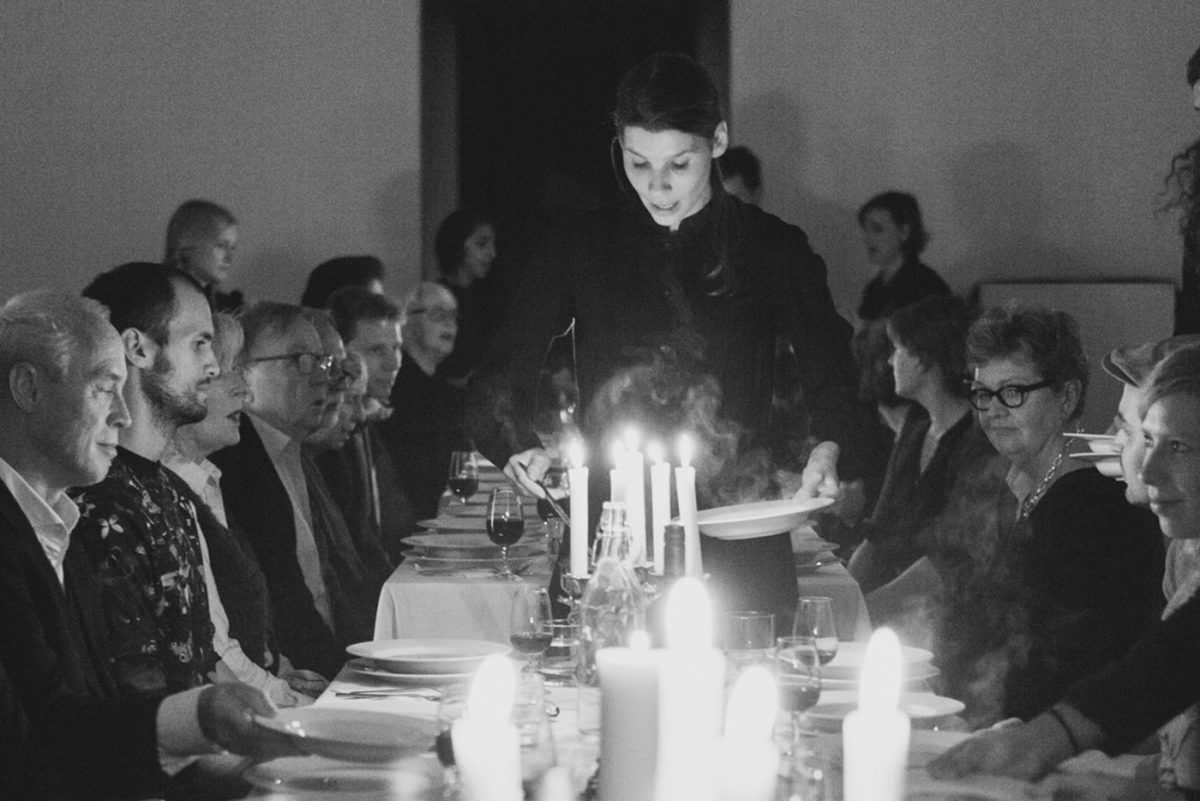 ---
The Choreography of a Dinner
Premiere, Theater festival FAVORITEN, Dortmund
26 oct 2014
A
collective
meal in the midst
of a choreographed atmosphere
as a connecting element
between space
and time

.
The Choreography of a Dinner focuses on the staging of a communal meal, framed in a cosmos of smells, sounds, movements, colors, light, fog and every conceivable experience. Depending on the occasion and the local situation, different elements from current artistic research flow into this open format. Beside the performative serving and tasting of food content discourses and poetic concerns are negotiated. For each dinner, one or more contemporary artists andacademics are invited as co-hosts to work out contemporary themes, artistic questions and sensual experiences. In this way, the moment becomes the stage and opens up new fields of action as an outreach between art and encounter, aesthetics and participation, space and community. The process of eating in a community is set to a symphony of the senses. The Choreography of a Dinner is a sensual exchange. An utopian community. An extension of choreography.
Choreography, concept: Ben J. Riepe
With (at Reading): Laura Burgener, Lenah Flaig, Simon Hartmann, Sudeep Kumar Puthiyaparambath, Hasti Molavian, Senem Gökçe Oğultekin
Organization: Izsakun Abrego
Costume: Margit Koch
The Choreography of a Dinner was part of the work WHITE VOID #14, a production of Ben J. Riepe, co-produced by Theaterfestival FAVORITEN 2014. Funded by Kunststiftung NRW, Fonds Darstellende Künste, Stiftung Kulturhauptstadt RUHR.2010 and Ministerium für Kultur und Wissenschaft des Landes Nordrhein-Westfalen. With thanks to PACT Zollverein.
26 + 30 oct und 1 nov 2014 7 pm Premiere, Theaterfestival FAVORITEN 2014, Dortmund
9 + 18 jun 2016 8 pm NRW-Forum, Düsseldorf
25 + 26 jun 2016 9 pm Malta Festival, Art Stations Foundation, Stary Browar, Poznan, Polen
8 dec 2016 8 pm PACT Zollverein, Essen
21 jul 2017 7 pm Reading Fringe Festival, Reading (GB)
19 + 23 jun 2019 7 pm Weltkunstzimmer, Düsseldorf