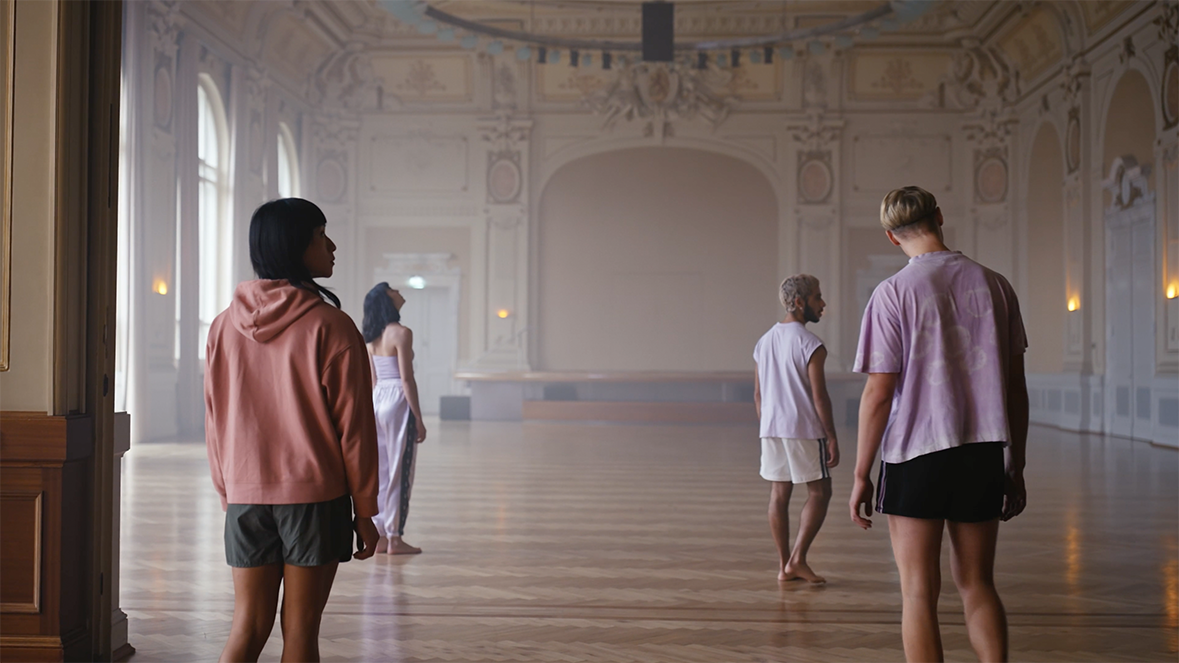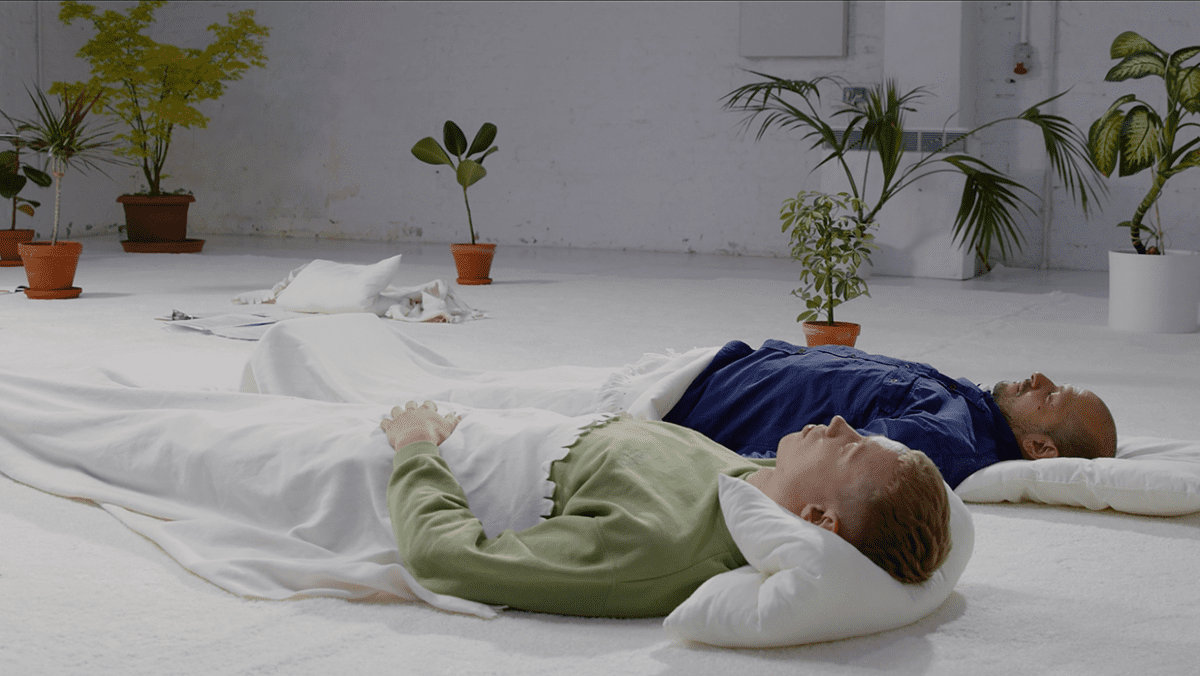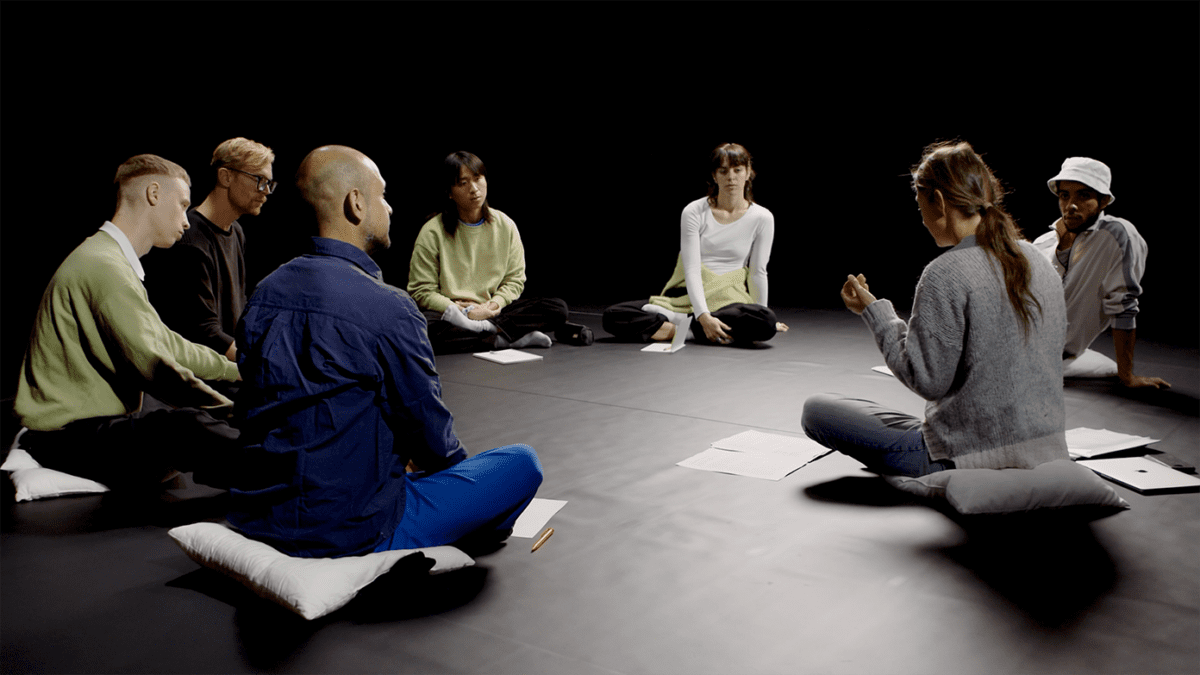 ---
»Sainte Réalité« – Video
tanz nrw 23 – Digital Stage
4 - 14 may 2023
4 – 14 may 2023 Digital Stage – tanz nrw 23
2 / 3 / 4 jun 2023 FFT Düsseldorf, in the frame of the premiere of the stage piece from the production series »Sainte Réalité«
How may we reach a different understanding of our own position in nature, how may we situate ourselves as an equal part among the many? How can an awareness of a new "Earth residentship" be raised, bringing us into another accord with Earth and nature? The overarching topic in the »Sainte Réalité« research and production series, slated to be produced in three parts, by Ben J. Riepe and team is an examination of the role of humans in the Anthropocene, caught in the tensions between the pandemic and the climate crisis, forcing ourselves to submit to a questioning, even a painful one, of our role in this man-made epoch, and to develop healing visions for the future with the means provided by the arts. The »Sainte Réalité« film traces the research process in documentary and poetic images that strongly query the dichotomy of nature and culture visually, when, amongst other things, they accompany the experience of somatic practice as in the yogic body cleansing of "Krias", the staging of corporeal-guttural performance elements in the midst of the baroque Castle Benrath, or as scenes are being shot in the eclectic splendour of Stadthalle Wuppertal.
Choreography/Concept: Ben J. Riepe
Performance: Luisa Fernanda Alfonso, Aaron S. Davis, Enora Gemin, Eray Gülay, Lujain Mustafa, Wendel Lima, Paula Pau, Jolinus Pape, Angelo Petracca, Sudeep Kumar Puthiyaparambath, Alejandro Russo, Igor Sousa, Tyshea Suggs, Leonie Türke
Choreographic Assistance: Darwin Díaz
Dream Session: Mala Kline
Transcendental Meditation Session: Alexandra Kopatzki
Cleansing Session: Birgit Damisch
Realization/Editing: Yannick Obry
Camera: Ian Baum, David Füsgen, Yannick Obry, Clemens Hörlbacher, Paul Schön
Assisting Camera: Yannick Obry, Paul Schön, Benjamin Weu
Dolly Grip: David Füsgen
Audio Recording: Celia Ruíz, Philip Schafferhans
Make Up/Hair: Miriam Schwarz, Katharina Ametsin
Dramaturgy: Janine Blöß
Voice Coaching: Carolina Rüegg
Project Management: Jessica Prestipino
Coordination: Izaskun Abrego
Production Assistance: Jolande Hörrmann
Management/Communication: Nassrah-Alexia Denif
Visual Communication: dasbuero. Puder und Müller
Shooting Locations: Aaper Wald, Schloß Benrath, Historische Stadthalle Wuppertal, Zeche Zollverein
The video »Sainte Réalité« is a production by Ben J. Riepe.
Special thanks to Schloss Benrath, Düsseldorf, for providing the great premises for our shooting.
Supported by NATIONALES PERFORMANCE NETZ – STEPPING OUT, funded by the Federal Government Commissioner for Arts and the Media as part of NEUSTART KULTUR and the Ministry of Culture and Science of the State of North Rhine-Westphalia.
The Ben J. Riepe Team is funded by the Ministry of Culture and Science of the State of North Rhine-Westphalia, the Cultural Department of the City of Düsseldorf and the Kunststiftung NRW.