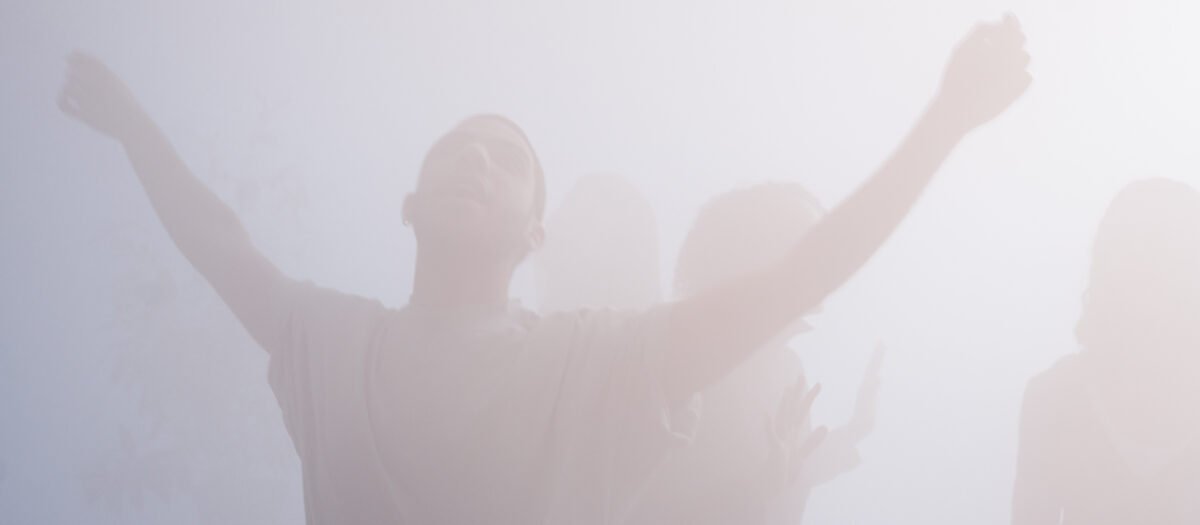 ---
Summer School »Sainte Réalité« Senses, Science and Sessions
Ben J. Riepe Team & Guests
3 - 12 sep 2021
10 days of experience and learning together with performances, showings, artistic & scientific inputs, experiential spaces, impulses for yoga and meditation, excursions, workshops, and late-night sessions.
How do we experience ourselves and our environment with all our senses? How do we learn, and what forms of knowledge exist? What manners of learning and knowing lie beyond that? How may we dive into the intermediate levels of consciousness and subconsciousness? What kind of relation reigns between our mind and the body, between our brain and our emotions, and between our I and the environment? How do we find the creative resources together to shape a new, sustainable world?
For the second time since 2019, choreographer and artist Ben J. Riepe develops a Summer School in collaboration with dramaturge Janine Blöß. Over a period of ten days, this Summer School brings together professionals*, students*, and an interested public, joining them with artistic and scientific positions from, among other fields, biology, neurosciences, shamanism, visual and performing arts, music, nutrition, yoga, sociology, meditation, animism, philosophy, and physics, through different formats and modes of experience.
Framed by the current production of Ben J. Riepe's film "Sainte Realité", the »Sainte Réalité« Senses, Sciences and Sessions Summer School with its core hubs in Düsseldorf and Wuppertal, along with some outlying locations throughout North Rhine-Westphalia, is going to take place from September 3rd until September 12th, 2021, joining knowledge and experiencing, learning as well as unlearning, the conscious with the unconscious. Instead of a passive consuming of knowledge, instead of a rigid hierarchy in knowledge and predetermined content, it invites participants* to immerse themselves in the experience, to take the deep dive, to take it in. Academic knowledge encounters artistic experimental and performative research, while cognitive approaches meet sensual experience and familiar habits of visual perception become challenged by alternative perspectives aiming to experience the world. Meditative breath control, immersive performances, spontaneous bursts of knowledge; experiential travels in film, music, trance, and dreamlike states may be entered into through a deep dive, a random drifting, or a short-termed grazing, depending on individual interest.
The Ben J. Riepe team and several experts* will take the audience on a transdisciplinary journey into the unknown, between different venues from the Summer School Campus on the Düsseldorf FREIRAUM, interdisciplinary and collaborative conception and work venue for the arts and sciences, and excursions into surrounding nature and urban space, between forest and museum, biotope and railway station, the studio and the street: It is a journey among science, trance, reality, dream, and experience.
A Court of Fluid Knowledge will continuously remain open, inviting the audience to several different scientific and artistic inputs – some live, some as videos or through podcasts –, and visitors* can take them in and experience them on individual tours, for any suitable length of time. The court takes place in the Ben J. Riepe Team production venue as well as in the studios and in the FREIRAUM coworking space at Engelbertstraße, in a multitude of rooms, bringing a variety of atmospheres.
This will be accompanied by a range of different offerings in daily rotation, consisting of joint excursions, workshops, lectures, performances, rehearsals, exhibition visits, and concerts. The programme's start and finale will be marked by two interdisciplinary performances by Ben J. Riepe: On Saturday, September 4th and on Friday, September 10th.
Every day as well as, ultimately, the whole of the Summer School programme follows its own complex arranged choreography: The different formats, spaces, inputs, and sessions build on each other, prepare one another, or react to previous events. The visitors* are thus invited to construct and experience temporality individually and differently in the experience rooms that originate by this method. Through the multi-layered and slowed-down take on questions arising in our "new world", ideas, impulses and concepts of sustainable mode of "Earth dwellership" may emerge, resisting the normative mechanisms of a "higher, faster, further".
Artistic Direction: Janine Blöß und Ben J. Riepe
Team Concept Summer School: Ann-Katrin Günzel, Florian Kuhlmann, Janine Blöß, Ben J. Riepe
Team Ben J. Riepe: Izaskun Abrego (Administration/Production), Nassrah-Alexia Denif (Management/Communication), Jan Kollenbach (Project Management "Schule des Erlebens"), Jessica Prestipino (Project Management BJR Productions), Robert Schulz (Projektleitung FREIRAUM), Víctor Zapata (Choreographic & Production Assistance)
Performance: Aaron S. Davis, Eray Gülay, Jolinus Pape, Paula Pau, Sudeep Kumar Puthiyaparambath, Wendel Lima, Lujain Mustafa, Waithera Schreyeck, Igor Sousa, Leonie Türke
Technic: Philipp Zander
Video und Photo: Lisa Viezens
Vocal Coach: Carolina Rüegg
Composition: Gordon Kampe
Visual Communication: dasbuero. Puder und Müller
Supported by: Fonds Darstellende Künste with funds from the Federal Government Commissioner for Culture and Media, Kunststiftung NRW, Cultural Department of the City of Düsseldorf, Ministry for Culture and Science of the State of North Rhine-Westphalia.
10 Days of Training for a New World.
Conceived by and featuring: Alwin Lay, Ann-Katrin Günzel, Ben J. Riepe & Team, Eray Gülay, Felizitas Stilleke, Florian Kuhlmann, FREIRAUM, Gerald Hüther, Gordon Kampe, Hanna Noh, Isa Köhler, Janine Blöß, Jonas Hohnke, Julia Stoschek Collection, Mala Kline, Maren Butte, Markus Schrenk, Mischa Kuball, Museum Schloss Moyland, Navtej Johar, Paula Pau, Reut Shemesh, Rob Voerman, Stephan Brinkmann, Sudeep Kumar Puthiyaparambath, Susanne Ristow, Suzanne Josek, Tanz Station – Barmer Bahnhof, Tanztheater Wuppertal Pina Bausch, Thomas C. G. Bosch, Timo Skrandies, Tom Förderer, Tonia Fee Graß, Ute Hörner, a. o.
Admission per day is 10€ which includes all proprietary Summer School programme offerings on the day chosen, external excursions and food offers. No previous knowledge in dance or the different physical offerings is required for participation. Admission is free for students*, FREIRAUM artists* and people with insufficient financial means, but we would like to ask you to register your "Summer School Campus" application beforehand (until September 1st, 2021) with Jan Kollenbach (project manager) jan@benjriepe.com.